I'm so so so sorry I've been ignoring my blog. I'm really busy with school, hobbies, and the like. Basically, throughout high school I missed a lot and now I'm trying really hard to get my credits I need. I'm not even really sure what I want to do (my dream would be acting, but that's very unstable) but I need a high school degree to do it. But this post isn't about me, it's about the lovely giveaways from two bloggers I love love love!
Laffi of the blog Millions of Bows
is holding a giveaway for her 200 followers! If you don't already follow her blog, do! She's into Lolita and Fairy Kei and I love her style so much!
Two mokomoko 2-way clips
Cute pastel bow
Fabric bracelet
Little Twin Stars bow
Puffy star hair ties
Mini pompom hair ties/bracelets
Chocolate ice cream scented bubbles
Cupcake bag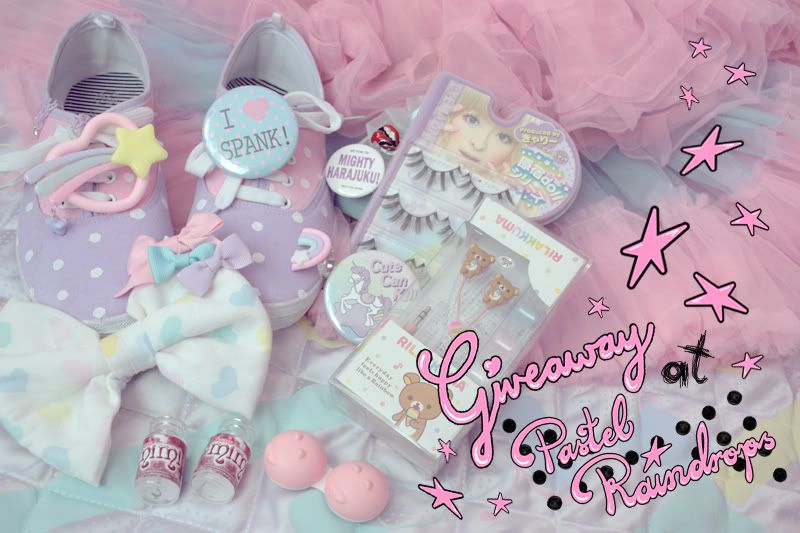 Custom painted sneakers in winning reader's size
2-way Bow
Cute Can Kill necklace, ring, and button
Rilakkuma earbuds
Lip ring, Mighty Harajuku button, and a Spank! button
Eyemazing Harajuku Doll lashes #501 designed by Kyary Pamyu Pamyu
Eyecandy Lenses
To read about Mio's giveaway, please go
here
.
Good luck to everyone else who entered, and I hope you are all doing well!